To Taxidi [The Journey]: collected poems - 2 vols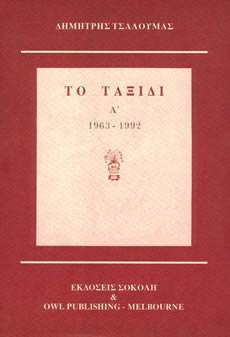 Author: Dimitris Tsaloumas
Title: To Taxidi [The Journey]: collected poems -2 vols (1963-1992)
(poetry, in Greek)
400 pp ISBN 960 7210 44 1
Joint publication with Sokolis Books, Athens 1995
$35.00
This Greek-language publication of the distinguished poet's collected works is a publication of major importance for Greek literature and includes the following collections which were published over a period of many years:
Volume 1
To spiti me tous efkaliptous; Ta perierga tragoudia tou kyr-Yanni tou Rebelou;
Anastasi 1967kai Triptycho gia mia deftera parousia (1969); Paratiriseis Ipochondriakou 1972-1975; O arrostos barberis kai alla prosopa; Mia rapsodia geronton
Volume 2
O yios tou kyr-Saki (Romaïko paramythi gia prohorimena paidia) 1976);
To vivlio ton epigrammaton (1978-1982); Epikarpologia (1979-1992)
Dimitris Tsaloumas was born and raised on the island of Leros, Greece. He emigrated to Australia in 1952 and settled in Melbourne where he still lives. His first publication The Observatory was published in 1983 (as a bilingual edition) winning the Australia Book Council Award for best literary book of the year. He has since published many more collections and won several major Australian awards including the Patrick White award.