The Bird, the Belltower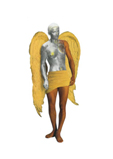 Author: Peter Lyssiotis
Title: The Bird, the Belltower
a bilingual collection of poems in English translated into Greek by Dimitris Vardoulakis
with an introduction in English and Greek
pp180 ISBN 0 9586390 9 4
Date of publication: 2005
$25.00
While Peter Lyssiotis has been a well-known and respected artist for many years, this is his first published collection of poetry. His poems in this book range between Cyprus (the author's native country) and Australia; between the village of Xylotymbou in Cyprus and the suburb of East Burwood in Melbourne. They capture something of the 'outsider' observing two places and are all the more accomplished because of the delayed publication and 'distance' between the two countries. The form of the poems ranges between the lyrical (acknowledging their debt to Lorca and Ritsos) and the prose poem (as practised by Max Jacob and Francis Ponge). The present collection of poems The Bird, the Belltower is a bilingual edition with translations into Greek and a scholarly introduction on the poems by its Greek translator.
Peter LYSSIOTIS is a photomonteur and a poet. His small press books include Journey of a Wise Electron and Other Stories, Three Cheers for Civilisation, The Harbour Breathes, Industrial Woman, The Ifs of Language, A Gardener at Midnight: travels in the Holy Land and many others. Private collectors, public libraries and galleries have acquired his photographs and limited edition artist's books.
The translator Dimitris Vardoulakis teaches and researches at the Centre for Comparative Literature and Cultural Studies, Monash University. His publications include translations into Greek of short stories, poetry, and a novel, Alasdair Gray's Poor Things (Nefeli, 2001).
This publication has been supported by the Australia Council