Re-telling the Tale: poetry and prose by Greek-Australian women writers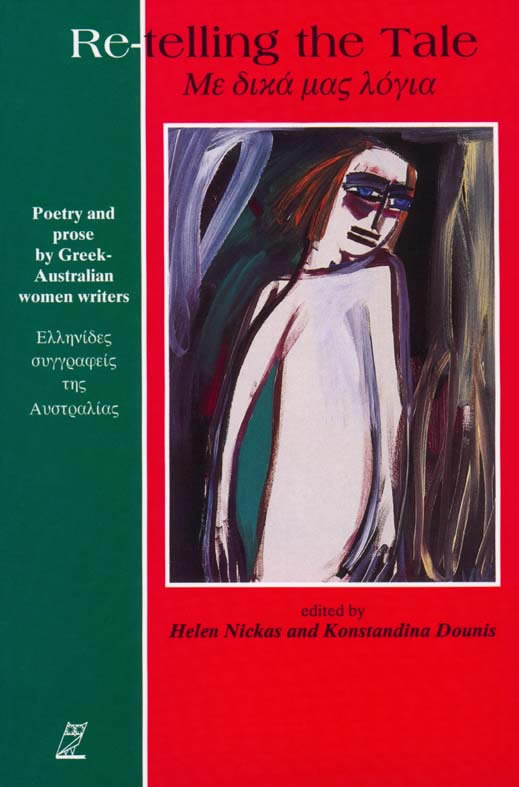 Editors: Helen Nickas and Konstandina Dounis
Title: Re-telling the Tale: poetry and prose by Greek-Australian women writers
(anthology, English-Greek)
Introduction in English and Greek by the editors
374 pp ISBN 0 64619493 3
Date of publication: 1994
$20.00
In this book, more than forty Greek-Australian women have composed, through poems and stories, a migrant tale of hardship, survival and joy: a truly Australian tale, a truly Greek tale, as both countries have given and taken from each other through migration. Each writer contributes, in her own voice and style, a part of this story which begins with the first generation of migrants, who had to endure life away from 'home', and is followed by those of their offspring who live in, or between, two worlds and experience the conflicts, as well as the joys, of a dual existence. Contributors range from the unpublished, to those previously published only in Greek, to others who are established names in 'Australian' literature. They are all here side by side, telling their part of the story. The editors of this book have provided a Greek-Australian story, fittingly, in bilingual form.
Helen Nickas is editor and publisher of the series Writing the Greek Diaspora. She is the author of Migrant Daughters (Owl 1992), teaches Greek Studies at La Trobe University and is also working on her own literary writings.
Konstandina Dounis lectured at RMIT for many years. She is currently doing a PhD in the English Department at La Trobe University. Her publications have been mainly in the area of Greek-Australian writers.
This publication has been supported by the Australia Council