Noted Transparencies / Simiomenes Diafaneies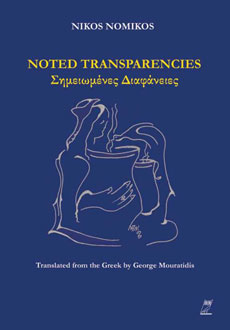 Title: Noted Transparencies / Simiomenes Diafaneies
Author: Nikos Nomikos
Second author: George Mouratidis (translator)
ISBN 0 9775433 4 X
Language: Greek and English
Genre: Poetry (paper back, 50 pages)
Publication Series: Writing the Greek Diaspora
Year of publication: 2016
RRP: $20.00
About the book: During the "kindled hours" of a single winter's night in his suburban "hermitage" in Melbourne, an elderly Nikos Nomikos is revisited by a searing vision he first had in a faraway place and time. With Noted Transparencies, the ascetic poet traverses worlds, tragedies and loves, more than half a century later, in his pained and joyous struggle to break the spell of the vision which has haunted him all his life.
"Here is poetry of clarity and simplicity, crafted by a master's hand. Mystical and ascetic, Nikos Nomikos is above all a disciple of language, distilling experience into sparse, pure lines. Noted Transparencies inscribes memory's fantasy of return, truncating hours, days and years into luminous, singular visions. Like photographs, or lantern slides, these poems are ruptured flowerings of time: intimate, beatific, and sad. George Mouratidis' ingenious and attentive translation from the Greek finally brings this 'light of divine economy' to a new audience."
Lucy Van
The author: NIKOS NOMIKOS was born in Alexandria, Egypt, in 1934. He moved to Athens where he completed his studies in engineering, and in 1964 he emigrated to Melbourne, working for Australian aviation as an aerodynamic draftsman for thirty years and where he continues to live with his family. Nomikos is an artist and poet, having published nine poetry collections in the Greek language to-date. His latest poetry collection, also in Greek, The Course of the Deep Well-Spring, is due to be published in 2017. Nomikos is one of the few diasporic Greek poets in Australia on whom Surrealism in both art and poetry had a substantial influence. Noted Transparencies (in bilingual form) is his first publication with an English translation.
The translator: GEORGE MOURATIDIS is a Greek-born scholar of modern literature (most notably of the Beat Generation), a poet, and translator of Modern Greek literature. He was a contributing editor of Jack Kerouac's On the Road: The Original Scroll (2007), and has an M.A. on Dada and Surrealist literature. He is currently completing his PhD on the Beats. His critical and literary work has been published both nationally and internationally, and his debut poetry collection, Angel Frankenstein, is forthcoming with Soulbay Press. He lives and works in Melbourne.