Mothers from the Edge: an anthology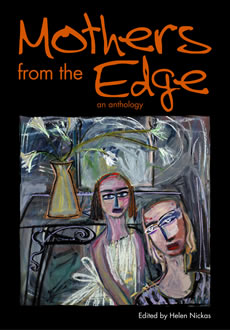 Editor: Helen Nickas
Title: Mothers from the Edge: an anthology
[prose fiction]
pp270 ISBN 0 9775433 0 7
Date of publication: 2006
$25.00
Mothers from the Edge is an antipodean anthology about mothers and daughters, consisting of (auto)biographical fiction, fictionalised (auto)biography, memoirs, short stories, plays. These are all new works by twenty-eight women writers in Australia, with a Greek background, or connection. These writers have contributed 28 original pieces with their own literary perspective on the mother-daughter relationship, interwoven with the common thread of migration. What emerges in all of their writings is that the pleasure and pain associated with having two (or more) cultures in their life is profoundly challenging and enriching.

The 28 writers are:
Dina Amanatides, Gillian Bouras, Sophia Catharios, Katerina Cosgrove, Angela Costi, Anna Couani, Konstandina Dounis, Vicky Fifis, Zeny Giles, Litsa Gogas, Anastasia Gonis, Efi Hatzimanolis, Vasso Kalamaras, Antigone Kefala, Yota Krili, Tes Lyssiotis, Haitho Massala, Joy McDonald, Despina Michael, Martha Mylona, Vasiliki Nihas, Helen Nickas, Toula Nicolaou, Melissa Petrakis, Chrisoula Simos, Vicky Tsaconas, Eugenia Tsoulis and Anna Zervos.
From the editor's introduction:
"The reader of Mothers from the Edge may visualise twenty-eight writers sitting down in a circle telling stories and, in the process, laughing, crying, reminiscing, eulogising, mourning, celebrating, exulting, reflecting or intellectualising. The topic: mothers and daughters...
Many of the mothers portrayed in this anthology owe their place in literature to the daughters who have written about them. That is, these literary daughters are writing the history of immigrant women, giving voice to the voiceless mothers, most of whom would not have been able to write their story."
About the editor:
Helen Nickas is editor and publisher of the series Writing the Greek Diaspora. She has published a number of other anthologies by Greek-Australian writers, including Re-telling the Tale (Owl 1994). She is an Honorary Associate at La Trobe University and is also working on her own literary writings.