Max: The Confessions of a Cat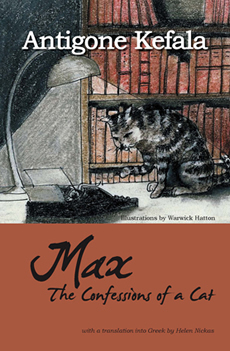 Title: Max: The Confessions of a Cat
Author: Antigone Kefala
Translator into Greek: Helen Nickas
LANGUAGE: ENGLISH AND GREEK
Illustrations throughout by Warwick Hatton
ISBN 9780980532111 (pb)
Date of publication: 2009
Price: $20.00
Publication series: 'Writing the Greek Diaspora'
Max: The Confessions of a Cat is a modern fable whereby the protagonist Max – a philosophising cat – is observing the humans around him with much perspicacity and wry irony. As humans do not seem to pay much attention to 'other' voices, Max is determined to change things:
"… the equation seems constantly to favour humans, it carries their point of view… We must all take to writing, this is the only way. Tell our stories… do our analysis, present our CATS' point of view."
Antigone Kefala is a Sydney poet and prose writer. She is the author of several volumes of poetry including Absence: new and selected poems and prose fiction including The Island and Summer Visit: three novellas. Her most recent publication is Sydney Journals (Giramondo, 2008).