Gynaikes ton Antipodon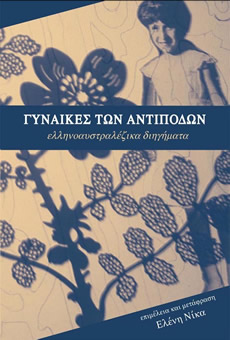 Title: Gynaikes ton Antipodon: ellinoafstralezika diigimata
Editor and translator into Greek: Eleni Nika
LANGUAGE: GREEK
Pages: 150
ISBN: 978-0-9805321-0-4
Date of publication: 2008
Price: $20.00
Publication series: 'Writing the Greek Diaspora'
This anthology contains translations into Greek of twelve short stories originally published in the anthologies Re-telling the Tale (1994) and Mothers from the Edge (2006). These stories by first- and second-generation Greek-Australian women writers depict the female migrant experience in all its manifestations and in a variety of styles and forms.
The twelve writers included are: Jeanna Vithoulkas, Antigone Kefala, Venetia Kefalianou, Angela Costi, Despina Michael, Eleni Nika, Toula Nikolaou, Zeny Dorati-Giles, Konstandina Dounis, Vasiliki Nihas, Vicky Tsaconas, Eugenia Tsoulis.
Illustrations are by Melbourne artist Arhonda Orestia-Papadopoulou.
The editor and translator Eleni Nika has also translated into Greek: A Foreign Wife by Gillian Bouras;
The Island, Alexia, Max, and a selection of poems by Antigone Kefala.