Fathers from the Edge: Greek-Australian reflections on fathers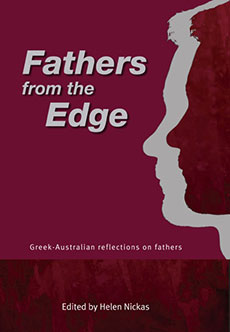 Title: Fathers from the Edge: Greek-Australian reflections on fathers
Editors: Helen Nickas
ISBN 9780977543359
Language: English
192 pages, paperback
Date of publication: 2015
Price: $20.00

Fathers from the Edge is a companion book to Mothers from the Edge (an anthology about the relationship between mothers and daughters within the Greek-Australian migrant experience).
Fathers from the Edge now comes to complement what began as an exploration of family relationships and the effect on them by the migrant experience. It includes a collection of narratives that examines the complex relationships between Greek-Australian writers (men and women) and their fathers. These 24 stories are aimed not just at the Greek-Australian reader, but anyone who is interested in how people, who live between cultures, untangle the complexities of dual lives and pave the way for understanding and compassion.
Contributing writers:
George Alexander, Claire Catacouzinos, John Charalambous, Anna Couani,
Konstandina Dounis, Eleni Elefterias-Kostakidis, Zeny Giles, Dimitri Gonis,
Tina Haralambakis, Efi Hatzimanolis, Hariklia Heristanidis, Dmetri Kakmi,
Dean Kalimniou, Vrasidas Karalis, Victoria Kyriakopoulos, Emilios Kyrou,
Peter Lyssiotis, Despina Michael, Martha Mylona, Olympia Panagiotopoulos,
Melissa Petrakis, Tom Petsinis, N.N. Trakakis, Eleni Frangouli-Nickas

About the editor:
Helen Nickas is the editor and publisher of Owl Publishing. She has edited poetry and fiction and many critical writings and anthologies about the Greek migrant experience.