Expatriates: contemporary Australian tales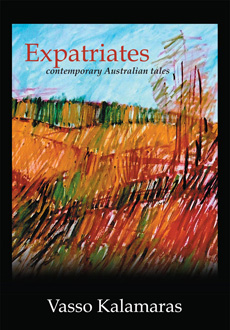 Title: Expatriates: contemporary Australian tales
Author: Vasso Kalamaras
pp 152, pbk
ISBN 978-0-9805321-4-2
Language: English
Genre: Fictional short stories
Publication Series: Writing the Greek Diaspora
Year of publication: 2011
RRP: $20.00
Expatriates: contemporary Australian tales is a collection of fictional short stories reflecting the migrant experience in all its manifestations. In particular, most of the stories depict migrants who live isolated lives in farms in Western Australia during the post-war period, when mass migration occurred from countries in Southern Europe. The author, being an immigrant herself, conveys this experience with authenticity, giving voice to the voiceless, who would not have been able to write their own stories. As with the author's previous collections Other Earth, Bitterness and The Same Light, these stories, too, are characterised by gritty realism but also great lyricism.
From the introduction by series editor Helen Nickas:
The author's language provides a unique voice to Australian literature, which is wide enough to embrace a multiplicity of speaking voices. In these stories, some of which were written first in Greek and then re-written in English, the author attempts to retain something of their Greek originality, sensitivity and richness. The English version is not a translation from the Greek. It is an authentic Australian voice, which fits the people the author portrays.
Vasso Kalamaras was born in Athens, Greece. She arrived in Australia in 1950, settling in the country town of Manjimup, in the southwest of Western Australia. Since the sixties, she has been a permanent resident in Perth, Western Australia. She is a writer of plays, short fiction, poetry and novels, published in Greek and English. Her work has been included in numerous anthologies and other printed media in Australia, Greece, America, Canada, China and France.
Her works include the bilingual books Other Earth (1977) (the first bilingual book of literature in Australia), Bitterness (1982), and the plays The Bread Trap (1986)and Olympias: Mother of Alexander the Great (2001) among many other works. She has won many awards in Greece and Australia including the 1990 'Western Australian Premier's Award for Fiction' for The Same Light, her collection of poetry and short prose.