Chapbook Series
The aim of the series is to showcase the diversity of poetry by emerging and established Greek-Australian poets.
Cost: AU$10.00 for each chapbook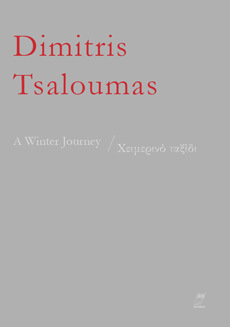 Author: Dimitris Tsaloumas
Title: A Winter Journey (Greek-English)
Date of publication: 2014
Dimitris Tsaloumas was born and raised on the island of Leros, Greece and emigrated to Australia in 1952, settling in Melbourne. His first publication The Observatory was published in 1983 (as a bilingual edition) winning the Australia Book Council Award for best literary book of the year. He has since published many more collections, in English, including Helen of Troy and Other Poems (UQP) and has won several major Australian awards. A selection of his poems was published in English and French translation (Un chant du soir, Orphée La Différence, Paris 2014). Dimitris passed away in 2016 on his native island of Leros, Greece.
This book consists of 14 short poems, which were re-written by the author in Greek after their publication in Helen of Troy and other Poems (UQP 2007). Dmetri Kakmi in his review (Australian Poetry Journal, April 2015) writes: "Tsaloumas brings to mind the poet as visionary or bard. There is weight and dignity to his utterance. His is a declaration in the face of universal indifference to human suffering. The polished, concise verse has a pagan outlook and indeed often he brings to mind Tiresias, the blind prophet of Thebes renown for prophecy. Possibly because Tsaloumas is elderly and in his final illness, the fourteen poems that comprise A Winter Journey emanate a sense of last rites. Each step offers a glimpse to a man preparing for the next stage of life, resolutely and with foresight."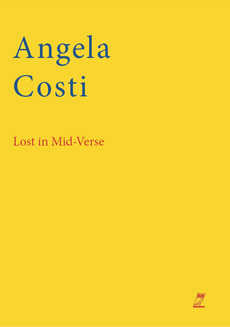 Author: Angela Costi
Title: Lost in Mid-Verse
Date of publication: 2014
Angela Costi was born in Melbourne of Greek-Cypriot parents and belongs to the so-called second-generation of Greek-Australians who write and publish in English. She has published several collections of poetry: Dinted Halos (Hit &Miss Publications, 2003); Prayers for the Wicked (Floodtide Audio, 2005) and Honey and Salt (Five Islands Press, 2007). Honey and Salt was shortlisted for the Mary Gilmore Poetry Prize 2008.
Dmetri Kakmi, in his review of this book (Australian Poetry Journal, April 2015) writes: "Wise and shrewd, these are mature, contemplative works. There is a discernment and level of engagement with form and subject that immediately captivates ... it is a quiet, pensive book; and while it reflects on universal questions, it also speaks to individuals caught between cultures and states of mind. This element brings a welcome tension. Costi does not take the easy way, pushing boundaries and challenging preconceptions about womanhood and ethnicity, even as she yields to nostalgia."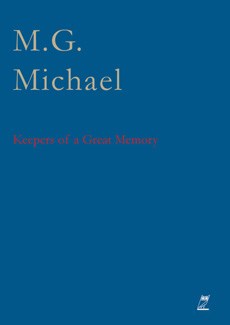 Author: M.G. Michael
Title: Keepers of a Great Memory
Date of publication: 2015
M.G. Michael was born in Sydney, the son of a Greek-Cypriot father and Greek mother. He holds degrees in Theology and a PhD from the Australian Catholic University and is presently an Honorary Associate Professor at the University of Wollongong, in the School of Information Systems and Technology. Michael's poetry and short stories have previously been published in a number of literary journals and anthologies, including Southerly, Coastlines, Westerly, Ulitarra, Studio and Five Bells, and his essays have appeared in Quadrant and The Conversation.
In his introduction to this book N.N. Trakakis gives some of the reasons which drew him to Michael's poetry when he first met him: "His expertise in, and passion for, theology, philosophy and poetry were evident from the start. But it was something else that drew me in, and still does. Although difficult to capture, this alluring quality of Michael's poetry may be formulated in terms of an 'ethics of invisibility': not so much seeking that which lies beyond the senses of nature, but rather a deep humility that situates itself among the anonymous, the obscure, the forgotten, the 'invisible'.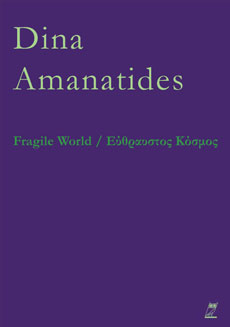 Author: Dina Amanatides
Title: Fragile World (Greek-English)
Translator: Kyriakos Amanatides
Introduction: Judith Rodriguez
Date of publication: 2016
Dina Amanatides was born in Meligalas, a township in the Peloponnese, Southern Greece. After completing her secondary education in Athens, she migrated to Australia in 1958, and has since been living in Melbourne with her family. Dina is a prolific writer, and her literary work – written in the Greek language – covers poetry, short stories, scattered thoughts (short aphorisms), which deal with existential and philosophical issues, and plays. Dina's first selection of poems to appear in English was Dreams of Clay, Drops of Dew, translated into English and with an Introduction by Konstandina Dounis (Owl Publishing 2011).
This chapbook gives a further taste of Dina's short aphorisms. In her introduction, poet Judith Rodriguez writes: "Epigrammatic poems are possibly the hardest to write. These poems, each numbering four to eleven lines, are a distillation of Dina Amanatides' poetic skills. Brief, succinct, and deeply felt, they range widely over the poet's topics of greatest concern... From epigrams, we seek truth. Refined, plain diction and wit too. Dina Amanatides wields both. Open-eyed, unflinching, the power of her poetry lies in her exploration of meanings behind our lives, her constant questioning.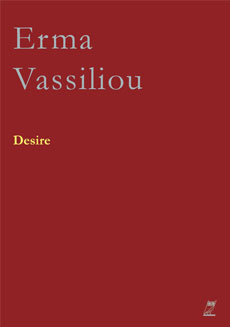 Author: Erma Vassiliou
Title: Desire
Date of publication: 2016
Erma Vassiliou arrived in Australia from her native Cyprus in 1987. She is a true child of the vast Greek diaspora, migrating with her family in 1952 to the then Belgian Congo in Africa and then being sent to Athens to study at Saint Joseph's French school where she was immersed in the study of French language and literature. Since her arrival in Melbourne, she has published a prodigious body of work including poetry collections, short stories and an autobiography in three volumes – all in Greek. She also has a PhD in Linguistics and speaks many languages. This chapbook is Erma's first entrance into the wider scene of Anglophone poetry.
In the introduction to this book Helen Nickas writes: "... these poems are an outpouring of strong passion intermingled with irony and quick wit. They are also an ode to love in its many facets, with desire being at its core. And they are nothing like what she has written before in Greek. It seems that by writing in English, she was freeing herself of any constrictions and was willing to experiment. Erma is what Antigone Kefala has called a 'flamboyant' poet, and Australian poetry can and should be able to embrace new poets whose first language is not English.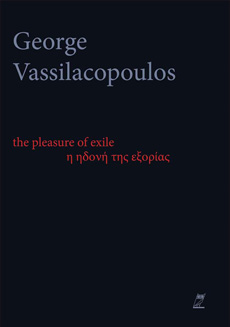 Author: George Vassilacopoulos
Translator: Peter Lyssiotis
Title: the pleasure of exile (Greek-English)
Date of publication: 2017
George Vassilacopoulos is the Convenor of the Philosophy Programme at La Trobe University where he teaches Greek and modern European and Greek philosophy. He is the author of articles and books on philosophy and political activism. His first book of poem in Greek is titled I mnimi tou episkepti [The visitor's memory] and was published in a limited edition by Eothinon Publications in 2000 in Melbourne.
Peter Lyssiotis, the translator into English of this book, writes in his introduction: "There is a silence in George Vassilacopoulos' writing. However, it is not a hollow silence in which nothing happens – rather it's a cinematic silence... he seems to say: Listen; there is nothing there. But listen again and you may recognise in that silence where you stand in relation to this world."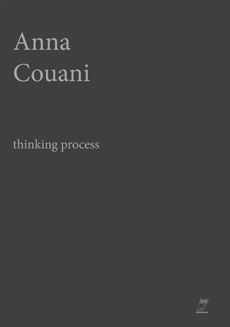 Author: Anna Couani
Title: thinking process
Date of publication: 2017
Anna Couani is a Sydney writer and visual artist who runs an art gallery in the inner Sydney suburb of Glebe. Couani was also a small press publisher (Sea Cruise Books) and feminist activist. Her first books, Italy, (1977) and Were all Women Sex-Mad? (1982) (both by Rigmarole Books) were followed by several more including The Harbour Breathes (Sea Cruise/Masterthief, Sydney 1990) and The Western Horizon (a serial novel in Heat magazine). Her most recent publication is a poetry book Small Wonders in bilingual form – English and Chinese – (Flying Islands Books, Macao).
Mark Roberts writes in his introduction to this book: "For Anna the "thinking process" revolves around making art, whether it is the writing of the poems, the making of a visual art that the poems describe, or the process of making space for the world of art and imagination... it is an important book full of finely crafted poems by a writer and artist who has played a critical, if under appreciated, role in the Sydney and wider Australian cultural scene for many decades."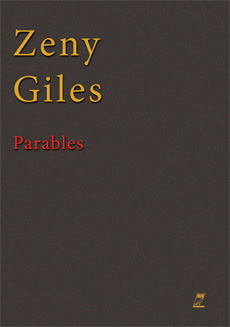 Author: Zeny Giles
Title: Parables
Date of publication: 2017
Zeny (Doratis) Giles is one of the first women of Greek descent in Australia to write about the migrant experience. Her father migrated to Australia from Cyprus, her mother from the island of Castellorizo. Zeny has published a number of short stories and novels, the latest being Wedding Dance (2009) and Daughters of Castellorizo (2013) which focus especially on the Castellorizians, who came to Australia in the early years of the 20th Century. Her poetry publications include Blackbutt Honey (2005) and A Little More Honey (2016). Zeny Giles has also featured in many anthologies of short stories and poetry.
In her introduction to Parables, poet Dael Allison writes: "The word parable carries a spiritual weight but it can also mean, more simply, a short moral story, something from which we can glean insights. Zeny Giles, with her parables of yarn, the household washing, family and friendship, offers us insights into daily experience..." Allison concludes that for Giles, "the practice of poetry involves finding what meaning, complexity and grace can be found in simple things."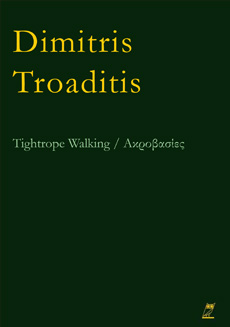 Author: Dimitris Troaditis
Translator: Dean Kalimniou
Title: Tightrope Walking (Greek-English)
Date of publication: 2017
Dimitris Troaditis was born in Athens in 1959 and migrated to Melbourne in 1992. He runs the poetry website To Koskino (https://tokoskino.me/). Three poetry books of his were published in Greek by publishing houses in Athens. The present chapbook is in bilingual form and marks Troaditis' first book appearance in the Australian literary scene.
The translator Dean Kalimniou is a widely published Greek-Australian poet in his own right and translator of many books of poetry and prose into English or Greek.
Dean Kalimniou begins his introduction thus: 'Akrovasies', renderable in English as "tight-rope walking," literally signifies walking on tiptoes. In the present volume, the poet Dimitris Troaditis takes the reader upon a journey through a world poised precariously upon a knife-edge, a world in which one steps through unguided and at their peril." Kalimniou contends that the poet's words "drench the page with the force of a torrent. Expressions and images swirl and eddy around each other ... threatening to sweep away the reader upon their contrapuntal tides. In so doing, the poet is artfully conveying to us the bewildering force of modern urban life itself, as it assails us with all its "rains and hurricanes".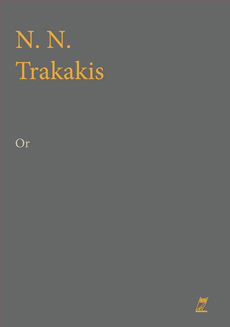 Author: N.N. Trakakis
Title: Or
Date of publication: 2018
N.N. ('Nick') Trakakis is Senior Lecturer in Philosophy at the Australian Catholic University, and also writes, edits and translates poetry. He has edited Southern Sun, Aegean Light: Poetry of Second-Generation Greek-Australians (Australian Scholarly Publishing, 2011), and has translated various Greek poets into English, concentrating on the work of Tasos Leivaditis. Nick has also published several collections of his own poetry, the most recent being After Life (2016).
This chapbook takes its starting-point from a poem by the leading Greek poet, Yannis Ritsos (1909-1990). Ritsos' poem sets the tone by evoking the power of that seemingly insignificant because ever-present part of speech: the conjunction 'or'. The force, even audacity, of this two-lettered word is to suggest alternatives when none appear visible, to provoke doubt, to create ambiguity when presented with stark contrasts, to make space for what Ritsos in his poem refers to as "mystery", "multiplicity..." This is the goal Trakakis sets for himself in this work. Philosopher and poet George Vassilacopoulos has written an Introduction to this book.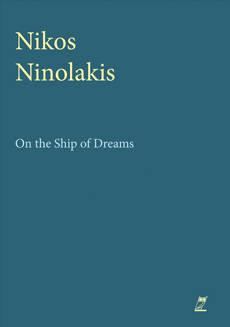 Author: Nikos Ninolakis
Translator: Konstandina Dounis
Title: On the Ship of Dreams
Date of publication: 2018
Nikos Ninolakis was born on the Greek island of Crete in 1923 and migrated to Australia in 1956. He immediately engaged in many community and literary activities and was a founding member of the Greek-Australian Cultural League. After his death in 1982 Melbourne academic Chris Fifis edited and published his poems in one volume, Ο Αργοναύτης του Νότου [The Argonaut of the South] in 1986. Ninolakis is a significant poet of the first generation of Greek migrants in Melbourne.
The translator Konstandina Dounis is a Melbourne academic, writer and poet. She has studied and translated Ninolakis' poems as part of her academic research.
Translations of poetry are usually undertaken as labours of love - either of a particular poet, or of a whole generation. Dounis writes in her Introduction to this book: "I was very moved by the themes expounded and the sensitivity that imbued them: the horror of the second World War and the subsequent Civil War in Greece, the agony of exile, the longing for his homeland, the harsh working conditions in Australia …"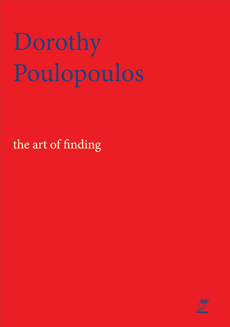 Author: Dorothy Poulopoulos
Title: the art of finding
Date of publication: 2018
Dorothy Poulopoulos is an award-winning Melbourne-born poet who writes in both English and Greek. Her poems appear in journals and anthologies published in Australia and in Greece where she lived for eight years (1994-2002), teaching, and writing poetry. Her collection of poems in Greek titled Βαφή Ψυχής was published in 2016 (catalogued as A Brushstroke of The Soul). She has organised and co-ordinated literary activities and has performed her poetry on many occasions. She is a committee member of Melbourne Poets Union.
Kevin Brophy, academic and poet, writes of Dorothy's work in his Introduction: "Dorothy Poulopoulos writes of love with love for what has been written of it (from Aristotle to Cohen), with a love for the cadences of language, and with love for the person she addresses. There is the sea too, and this is where Dorothy Poulopoulos becomes a most startlingly lyrical poet, open to whimsy and inventiveness. In these poems Dorothy Poulopoulos has, remarkably, produced poems that eulogise equally the disparate havens of the celebrated Santorini and the neighbourhood of Bundoora."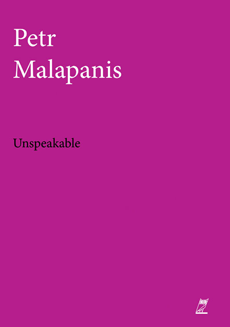 Author: Petr Malapanis
Title: Unspeakable
Date of publication: 2019
Born in Melbourne, Petr Malapanis has been writing for over 20 years. Some of her publications are as follows: in anthologies such as Mother Lode (Poetica Christi Press, 2003) and Set Free (2004); in the journal Etchings (vol. 4, 2008); in the coffee-table book, Reflecting on Melbourne - a vision of Melbourne through the eyes of some of its poets and artists' (Poetica Christi Press, 2009); in the anthology Southern Sun, Aegean Light (Arcadia 2011), A Lightness of Being (Poetica Christi Press 2013) and as part of MSFW ARTZ in 2014. After some dirty dancing with breast cancer and a 2-year hiatus from writing completely, Petr finally articulated the experience in an intense feature at West Word in 2017. Unspeakable is her first solo offering.
"In Unspeakable, writes Christos Tsiolkas in his introduction, "her astonishing suite of poems, the devastating and necessary eruptions of language are linked to the violence that is done to our bodies. The violence of disease. The violence of sexual abuse. The violence of racism. All these violences are cruel and savage. And yet, and yet, Malapanis has created something beautiful from all this damage… These poems speak to the bravery of Malapanis, and also to her success. They speak: eloquently, savagely and beautifully. They dance, they sing."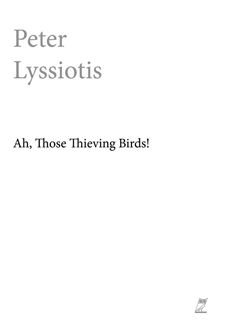 Author: Peter Lyssiotis
Title: Ah, Those Thieving Birds!
Date of publication: 2019
Peter Lyssiotis was born in Cyprus (1949) and has lived in Australia since 1953. He is a photomonteur, filmmaker, writer, photographer and book artist. He has exhibited widely in both solo & group shows. Among his books are Journey of A Wise Election and Other Stories, Three Cheers For Civilisation, Men of Flowers, A View From My Darkroom, His poetry collection, The Bird. The Belltower, was published by Owl Publishing in bilingual form, with a Greek translation by Dimitris Vardoulakis. His artist's book, A Gardener At Midnight: Travels in the Holy Land was filmed by the ABC as a two-part documentary.
Birds have featured regularly in Peter Lyssiotis' work - The Bird, The Belltower; Birds from Byzantium and now, Ah, Those Thieving Birds! Lyssiotis uses the prose poem, which reached its heights in France between the Wars, because it allows him to move slyly between both the real and the surreal. Although the poems are set in a familiar domestic setting, the inevitable unexpected insight or the slightest twist of the narrative give the work wings with which to fly beyond the everyday. Toula Nicolacopoulos has written the Introduction to this chapbook.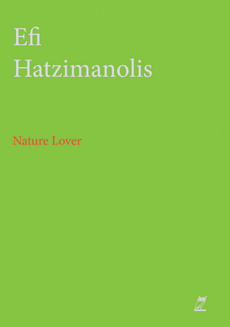 Author: Efi Hatzimanolis
Title: Nature Lover
Date of publication: 2019
Efi Hatzimanolis is an independent scholar, writer and poet working in the areas of cultural criticism, literary and textual studies with a particular interest in the critical intersections between identity politics and representation. She has published feminist critical essays on cultural differences in writing in numerous journals and books. Her short stories appeared in the anthologies Mothers from the Edge and its companion Fathers from the Edge (Owl Publishing 2006, 2015). Her poetry has been published online in project365plus and in the anthology, Southern Sun, Aegean Light (Arcadia, 2011). All the poems collected in Nature Lover were originally published online in draft form as part of Project 366. Most have been revised. She lives in Wollongong, NSW.
"Nature Lover is a selection of poems written with immense subtlety and expressive density, simultaneously. Efi Hatzimanolis' poems pulsate with this strange antinomy." These are the opening remarks in Vrasidas Karalis' introduction. He continues: "Hatzimanolis dives into the natural world with the ecstasy and the intoxication of someone with a professed mission to find in its labyrinth her own personal Minotaur… Reading Hatzimanolis' poems is like falling into the abyss of the primal scene: a separation and a loss takes place somewhere or as suggested by Greek tragedy, behind the scenes. We hear the whispers and the cries, the broken sentences..."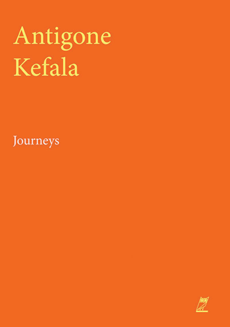 Author: Antigone Kefala
Title: Journeys
Date of publication: 2019
Antigone Kefala is an award-winning poet and prose writer who has been living in Sydney for most of her life. Her origins go back to Braila in Romania where a considerable Greek diaspora had existed for generations. Her publications include Absence: new and selected poems (Hale & Iremonger, 1992, 1998); The Island (Hale & Iremonger, 1984); Summer Visit (Giramondo, 2002); Sydney Journals: reflections 1970-2000 (Giramondo, 2008) and the most recent award-winning poetry collection Fragments (Giramondo, 2016). Several of her original publications have been reproduced in bilingual and trilingual form by Owl Publishing. A comprehensive overview of her life and work can be found in Antigone Kefala: a writer's journey (edited by Vrasidas Karalis and Helen Nickas, Owl Publishing 2014).
In her Introduction to Journeys, Anna Couani - a fellow-Sydney writer who is intimately familiar with Antigone Kefala's work - has written: "… this collection, Journeys, resembles Antigone's other poetry. It is work that moves constantly across the boundaries of the public and the personal, the temporal and the eternal, the temporary and the permanent, the cozily familiar and the wholly alien, the culturally embedded and the universal, the topical and the universal, consciousness and unconsciousness, dream and mindfulness…"